Case Report
A case of spontaneous subarachnoid hemorrhage and intraventricular hemorrhage with negative computed tomography angiography findings
Introduction
The prevalence of cerebral aneurysms in the general population is approximately 2–3% (1-3) and small ruptured aneurysms <5 mm were found in about 40% of all spontaneous subarachnoid hemorrhage (SAH) patients (4). Although literatures (3,5) demonstrated that small cerebral aneurysms have a low risk of rupture, many experienced neurosurgeons and endovascular therapists report that most ruptured aneurysms encountered in practice are small (6,7). As seen in a study by Gupta et al. , aneurysms smaller than 2 mm can also result in an SAH and constituted 7% of ruptured aneurysms (8). We hereby present a mid-aged female patient diagnosed with SAH and intraventricular hemorrhage (IVH) with negative findings on brain computed tomography angiography (CTA), which derived from a tiny cerebral aneurysm. The only clues at the first beginning were stiffness of neck and xanthochromia of cerebrospinal fluid (CSF). This was a rare case based on our experiences without efficient data on the best diagnostic strategies and emphasized the importance of clinical examination but imaging examination.
---
Case presentation
A 53-year-old woman was brought to the emergency department with sudden onset of explosive headache lasting more than 12 h. She had a past medical history of hypertension but didn't take any medication regularly. There was no history of trauma, fever, swallowing problem and vomiting occurred. On neurologic examination, stiff neck and both of the Brudzinski's sign and Kernig's sign were noted, but the laboratory and physical examination were otherwise unremarkable. Brain CT (Figure 1) and CTA showed no abnormality. Lumbar puncture was performed, which demonstrated opening pressure 85 mmH2O and closing pressure 70 mmH2O and revealed turbid and pink CSF fluid on visual inspection. Her CSF analysis demonstrated 127 white blood cells per mm3 and >10,000 red blood cells per mm3, and xanthochromia by spectrophotometry in Figure 2. Because of SAH was highly suspected by the clinical history and presentation, digital subtraction angiography (DSA) was performed and showed a small saccular cerebral aneurysm (<2 mm) at ophthalmic segment of left internal carotid artery in Figure 3. Brain magnetic resonance imaging (MRI) also revealed SAH and IVH involving bilateral lateral ventricles in Figure 4. The patient received conservative treatment and discharged after an uneventful recovery. She has remained well at 6-month follow-up.
Figure 2 Lumbar puncture revealed xanthochromia of CSF in left tube. Normal CSF was in the right tube. CSF, cerebrospinal fluid.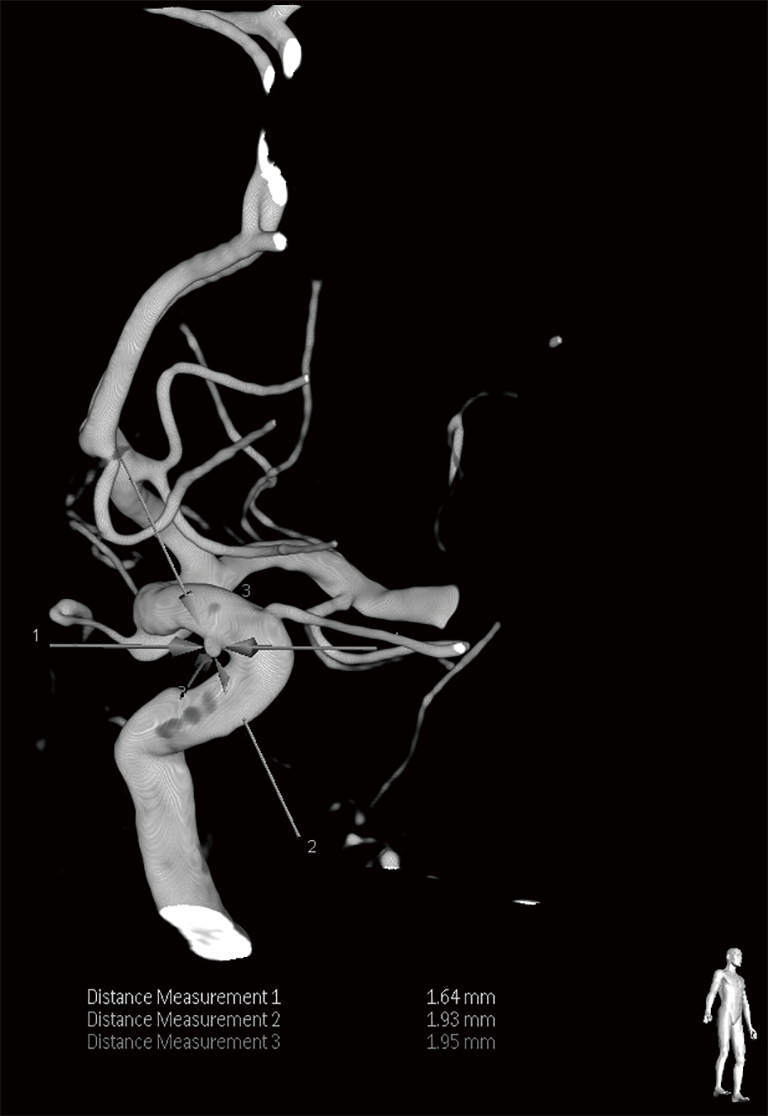 Figure 3 Digital subtraction angiography showed a small blister cerebral aneurysm measuring about 1.5 mm arising from cavernous portion of left internal carotid artery.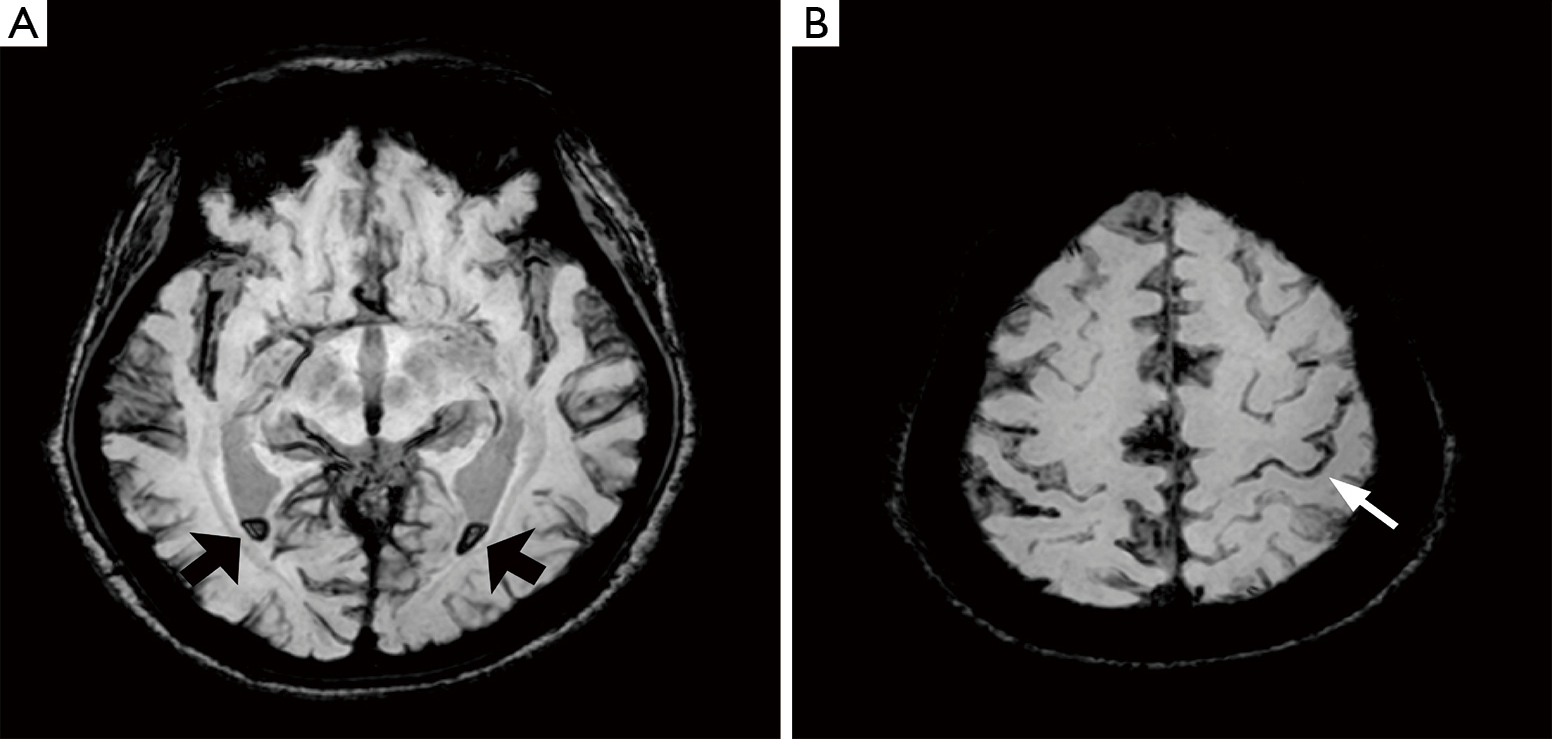 Figure 4 BOLD magnetic resonance imaging demonstrated blood layering in bilateral lateral ventricles (black arrows) and subarachnoid hemorrhage over left vertex sulci (white arrow). BOLD, blood oxygen level dependent.
---
Discussion
About 80–85% of nontraumatic SAHs are caused by cerebral aneurysm rupture (2) and late diagnosis of this life-threatening disease will be dangerous. Meningeal signs and xanthochromia of CSF are the typical findings which is easy for physicians to check at the first beginning (9,10). Brain CTA is less invasive than DSA and more convenient for clinical management, but some smaller cerebral aneurysms are undetectable on brain CTA (2,11,12). A study performed by Wintermark et al. revealed that brain CTA only had a sensitivity of 50% for aneurysms <2 mm (12,13), though brain CTA has been reported a sensitivity of 97–100% for the detection of intracranial aneurysms in prior studies (9). DSA remains the gold standard for detecting and characterizing intracranial aneurysms, which identifies a cause of SAH in 4–14% of patients with negative brain CTA images (14,15). DSA should be performed based on the clinical picture highly suggestive of SAH (1,2).
Although brain CTA could help us making diagnosis more easily, physicians should be alert to the possibility of SAH even if there was no positive finding on brain CTA. Cerebral aneurysms which are smaller than 2 mm are less reliably detected by brain CTA (15-17). Patients presenting to emergency department with a sudden explosive headache and positive meningeal signs should be treated with caution. It is recommended that DSA should be considered if there is a highly clinical suspicion of SAH.
---
Acknowledgments
None.
---
Footnote
Conflicts of Interest: The authors have no conflicts of interest to declare.
Ethical Statement: The authors are accountable for all aspects of the work in ensuring that questions related to the accuracy or integrity of any part of the work are appropriately investigated and resolved. Written informed consent was obtained from the patient for publication of this manuscript and any accompanying images.
---
References
doi: 10.21037/ht.2019.11.02
Cite this article as: Hwa PC, Chiu YH, Liu LR, Chang WH. A case of spontaneous subarachnoid hemorrhage and intraventricular hemorrhage with negative computed tomography angiography findings. Health Technol 2019;3:10.