Case Report
Infective endocarditis presenting as back pain
Introduction
Low back pain is a common and nonspecific complaint including many differential diagnoses at emergency department. Systemic embolization is an unfortunate sequel of infective endocarditis (IE) that can occur despite an appropriate therapy. We present a low back pain patient cause by IE complicated abdominal aortic emboli.
---
Case presentation
A 51-year-old healthy man presented to emergency department with complaints of severe low back pain for 3 days. He reported a 2-week history of low-grade fever but denied any cough, diarrhea or urinary frequency. His vital signs were normal except body temperature of 37.6 ℃ on arrival. Physical examination revealed only a grade 3/6 systolic murmur, neither peritonitis nor flank knocking pain. Laboratory data showed a white cell count of 14,100/uL, hemoglobin of 11.1 g/dL, microhematuria of RBC 48 cells/HPF and C-reactive protein of 15.6 mg/dL, but others were unremarkable. Abdominal computed tomography (CT) with/without contrast was ordered by an experienced emergency physician because of persistent back pain with fever up to 38 ℃, and it showed a huge aortic thrombus at the level of aortic bifurcation (Figures 1,2, arrows). CT angiogram revealed extensive thrombosis from the left iliac artery to femoral arteries. Transthoracic two-dimensional echocardiography showed a vegetation (1.3 cm × 0.9 cm) at anteromedial leaflet of mitral valve (Figure 3), and severe mitral regurgitation. Blood cultures reported Viridans streptococci. IE was diagnosed. He was treated successfully with broad-spectrum antibiotics and arterial embolectomy with mitral valve replacement.

Figure 1 Axial view of contrast-enhanced abdominal computed tomography (CT) showed a huge aortic thrombus at the level of aortic bifurcation (arrows).
Figure 2 Coronal view of contrast CT showed a huge aortic thrombus at the level of aortic bifurcation (arrow).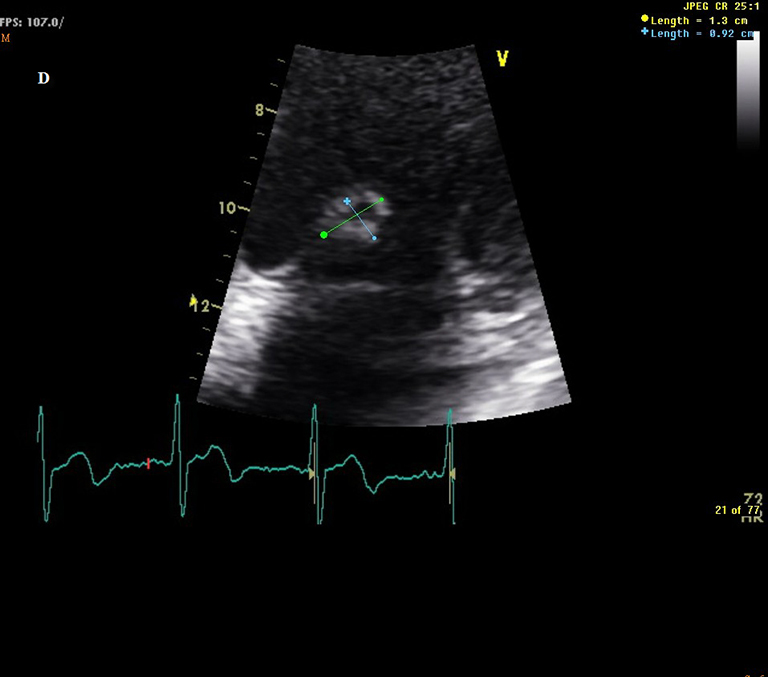 Figure 3 Transthoracic echocardiography showed a vegetation (1.3 cm × 0.9 cm) at anteromedial leaflet of mitral valve.
---
Discussion
IE is an infection of the heart valves and often causes valvular vegetations. Clinical presentations of IE are often nonspecific and highly variable. A heart murmur is the most commonly physical finding of IE; extra-cardiac manifestations are due to arterial embolization of fragments of the friable vegetation. Large vegetations on the mitral valve, especially on the anterior leaflet, are associated with a higher risk of embolism. Emboli can occlude essentially any vessel in the systemic or pulmonary arterial circulation. Systemic embolization most commonly occurs in left-sided IE; pulmonic embolization most commonly occurs in right-sided IE. Systemic embolization occurs in 22% to 50% of IE patients; emboli may involve major arteries, mostly affecting the central nervous system, but also other organs (1). Embolization to any major arteries contributing to any symptoms may occur; however, persistent low back pain caused by abdominal aortic emboli has never been reported. Current diagnostic criteria of IE include a careful clinical observation, blood culture and echocardiography (2). Contrast-enhanced CT is a useful tool for evaluation of systemic embolization (3). Successful treatments include early and prolonged antimicrobial therapy, and valve-replacement surgery if necessary (1).
---
Acknowledgements
None.
---
Footnote
Conflicts of Interest: The authors have no conflicts of interest to declare.
Informed Consent: Written informed consent was obtained from the patient for publication of this manuscript and any accompanying images.
---
References
Mocchegiani R, Nataloni M. Complications of infective endocarditis. Cardiovasc Hematol Disord Drug Targets 2009;9:240-8. [Crossref] [PubMed]
Li JS, Sexton DJ, Mick N, et al. Proposed modifications to the Duke criteria for the diagnosis of infective endocarditis. Clin Infect Dis 2000;30:633-8. [Crossref] [PubMed]
doi: 10.21037/ht.2018.07.01
Cite this article as: Lin YH, Chang WH, Tsai W, Chien DK. Infective endocarditis presenting as back pain. Health Technol 2018;2:3.